"Diane Marie Ford's The Spirits Speak on Success never stops giving.  This sensory rich deeply moving collaboration with spirits is astonishing, down-to-earth, and uniquely insightful.  If you have ever wondered about the meaning of success, you'll not find a more diverse and thought-provoking gathering of ideas and perspectives from the 'afterlife', the experts on the topic from beginning to end, literally.
Each 'speaker' leaves no holds barred in their frank opinions and compassionate yet firm advice to those of us still here in form.  We can change for the better…  Not only do these spirits want to help us, but they are readily available to teach and guide us if we simply open up to listen.  Ms. Ford provides both the platform and the podium.  This landmark work stands out as an unforgettable page-turner and living guide."
Katharine Gilpin, Creative Healing Artist, SoundBody Therapist
WE ARE IN PRINT!!!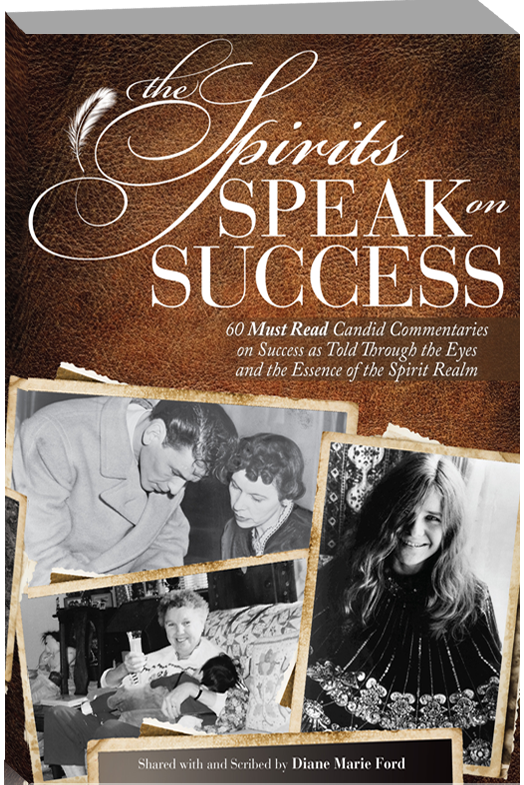 The Spirits Speak on Success says it all.  Thank you, my dear contributing spirits… my 'spirit connections' – your willingness to show up and share the intimate details of your perspectives about success made this, our first book in The Spirits Speak series, possible. May our symbiotic collaborations continue to serve as a platform for self-expression, awareness, education and love.
BUY your copy NOW via PayPal.  $20 includes taxes, shipping and handling.
Thank you for your purchase.
If you would like additional copies – please contact me and let's talk.  Diane@ListenToThyself.com or 508.947.5348.
(If PayPal has directed you to this page because you changed your mind about ordering – please consider rethinking your decision.  The return on your investment will be well worth it!)